Citadel's Polyurea Floor System Meets the Challenge of this Auto Detailer's Harsh Environment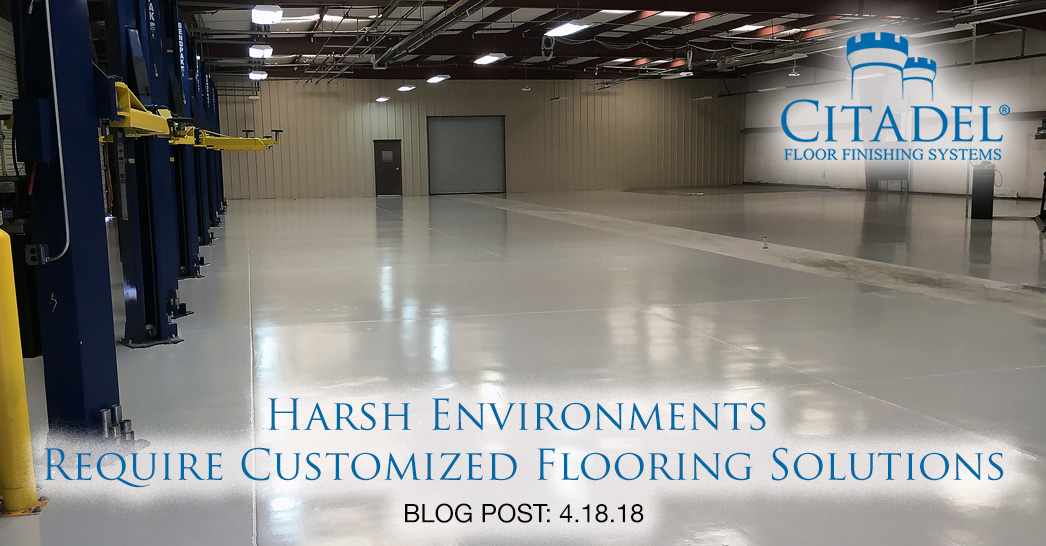 2018-04-18
"Neither snow nor rain nor heat nor gloom of night stays these couriers from the swift completion of their appointed rounds" reads the famous motto inscribed on a post office in New York City.
When Brett Buffington—Flooring Specialist described one of Citadel's latest project scenarios, it was this unofficial US postal worker creed that came to mind. Picture this:
A large, 40,000 square foot (SF) facility is open on either end to the elements, allowing varying degree of temperatures, UV rays and rain to enter the building. After years of exposure and use, the concrete floor is battered and worn. The facility's waterfront location creates high moisture vapor drive through the floor.
To top it off, this is where high-end imported vehicles are detailed—a process involving various chemicals and automotive fluids— before they're shipped to the luxury dealerships where they'll be sold.
It was time to upgrade the facility's concrete floor. The detailing company had these requirements:
The vehicle manufacturer, who had a vested interest in the quality of detailing work performed, required that the total quantity of visible light (including reflected off the floor) meet a minimum of 1,200 Lumens.
Due to the high-moisture waterfront environment, there was the added requirement of a moisture vapor primer with the capability of withstanding 25 lbs. of moisture vapor per 1,000 SF as measured over a 24-hour period using anhydrous calcium chloride tests. This addition will provide a long term solution to the potential of delamination from the concrete due to the high moisture vapor drive.
Brett's recommendations for the installation team included:
The result was a smooth stable floor system that met all requirements and surpassed the manufacturer's expectations with a visible light measurement of 3,600 Lumens. Our products, and the skilled contractors who installed them, met the complex challenges of even this waterfront, open-air auto detailing facility.
What is the biggest challenge you've met with our products? Are you bidding on a complex project right now and could use some guidance putting a plan together? Click here to schedule a call with Brett or any of our flooring specialists. We're here to help.