New Product:
Pre-Tinted 350
Polyurea-350 will now available in two formats. We will offer the standard form, as it is currently sold, which is clear to allow the installer to customize the color of the floor being installed using CFFS Universal tints. We will also now offer a pre-tinted version that eases in the installation process by eliminating the adding of the tint. The pre-tinted version will come standard in Gray and Tan only. The current clear form is available in three speeds; winter, summer, and arctic, whereas the Pre-tinted form will be only in summer blend. All other physical properties including packaging, and kit sizes will remain the same (3 gallon kits or 5 gallon buckets). Mix ratios will also still remain the same, 1 part A to 2 parts B.
There is also no cost difference between the pre-tinted and clear version, per gallon price remains unchanged.
Project of the Month:
Metallic Garage
Loren Lowry from L&L Industries installed the Polycuramine Metallic system in his garage and it turned out awesome. He added a single coat of Poly-1 HD with UDP for added durability and scratch resistance, but still holding a high gloss look. No doubt his garage will be the talk of the neighborhood. Great work Loren!!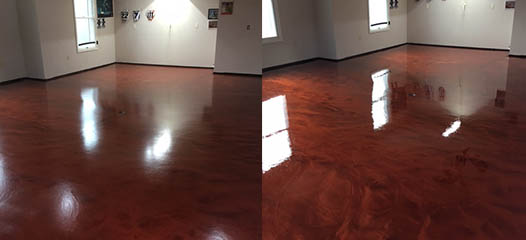 Monthly Product Highlight:
Shoe-in Spikes
Check out the new line of spikes we are now offering. These shoe-in spikes are extremely easy to get on and off as you wear them right over your shoe or boot. These shoes are available for $79.00 per pair.

Upcoming Events:
Get Certified!
Become a certified Citadel Products installer by attending a training seminar. Citadel training sessions are typically held on a monthly to bi-monthly basis depending on the number of interested parties. We always welcome new installers but even if you have been to a previous session, consider a refresher course because we are constantly working to improve installation techniques. Who knows, you may just learn a new technique that could save you time and money! Please let us know if you are interested in attending a training seminar, we would love the opportunity to showcase our current products and also any new products and installation techniques!! Next training session will be held May 16-17.
Click here for registration information
Tech Tips:
Ultra-Hydro Stop H20 Mixing
It is very important to follow the mixing instructions when using UHS H20 or it can leave a tacky feel to the surface and extend cure times.
The proper way to mix the kit is as follows:
Pre-Mix Part A and B
The entire contents of the Hardener (Part B) is emptied into the Resin (Part A) container and mixed with a drill for 2-3 minutes
After the resin and hardener are combined, clean water (64 oz) is added slowly, under agitation, until a uniform mixture is achieved