We're Expanding: Announcing a New Manufacturing Facility, Tripling Production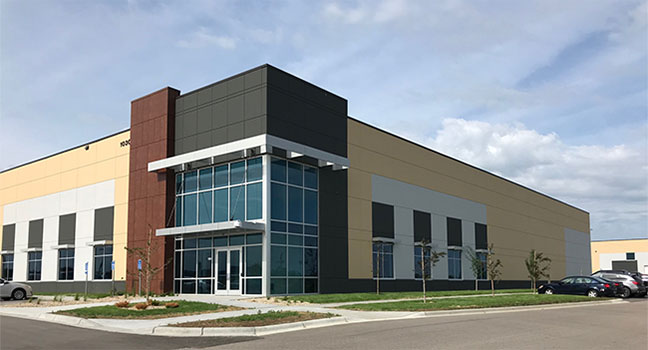 2018-06-19
"We are very excited to finally have this new manufacturing facility," shared Lyle Allen, Vice President of Rust-Oleum Brands. "This facility not only will allow us to increase our capacity for production but also become more responsive to our customers' needs."
Rust-Oleum manufactures product in Pleasant Prairie, WI; Hagerstown, MD; Somerset, NJ; in addition to multiple other locations in the United States and Europe… And now we can add Brooklyn Park, Minnesota, specializing in Citadel Floors' polyurea coatings to that list.
Citadel, a leading manufacturer of polyurea floor coatings, evolved over 40 years from a mid-size installation company, to the leading manufacturer for polyurea coatings in the world.
We are especially proud that the new Brooklyn Park plant:
Triples the production capacity of our previous plant;
Comprises a 150,000 square foot facility, three times the size of our previous building; and
Includes a state of the art training center with the capacity to train up to 50 contractors, customers and representatives at a time.
The new facility continues the tradition of our company's dedication to equip end-users with a solid understanding of coatings systems and raise their comfort level in using the products, just as we do at the Vernon Hills training center, which celebrated its first year of operation last year.
Brooklyn Park was strategically chosen for its location and committed support of manufacturers and technology. The sixth largest city in Minnesota, Brooklyn Park is located on the west bank of the Mississippi River, upstream from downtown Minneapolis.
"The former agricultural driven community offers a wide range of commercial, industrial and residential development opportunities," offers the Built in Brooklyn Park website. "The diversity of the City's 80,000 population give employers access to a wide range of skill sets and talents… And being located minutes from downtown Minneapolis, half an hour from Minneapolis-St Paul International Airport, and directly off major highways makes getting people and products to and from Brooklyn Park easy and convenient."
We've talked before about how it can sometimes be hard to tell which is the real manufacturer out of the sea of private-label suppliers, and why working direct with the manufacturer is better for you and your customers.
And now we've given you three times the reason to put your trust in our products, by tripling our production at our newest, state of the art plant in Brooklyn Park, MN. Want to know what we can do for your business? Schedule a free, no-obligation chat with one of our flooring experts to learn more about our products, service and training here.