How to Maintain Your Concrete Grinder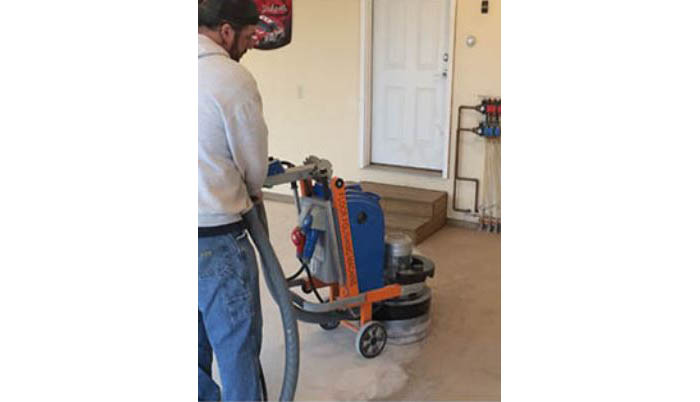 2019-05-29
As an installer, you want your concrete grinder to continue to efficiently and effectively perform at the highest level because your clients are depending on you. To keep your concrete grinder in tip-top shape, it's important to adopt a regular maintenance program.
Much of the maintenance on your grinder can be performed by you before and after each use, but to ensure a longer life span, it's recommended to schedule an annual check-up with an approved service center.
To keep you on track, here's a maintenance checklist:
Before each use
Inspect the entire machine. If an unusual noise or vibration occurs, have it fixed before use.
Assess the accessories for any wear and damaged parts (switches, guards, belts, etc.).
After each use
Clean dust and debris off the entire machine.
Retighten loose fittings.
After 100 hours of use
More thorough cleaning for debris build-up.
Check grinder heads for abnormal movement.
Make sure there are no tears in the belts and they aren't slipping.
Examine seals and shafts.
Check the battery for voltage, cracks and leaks (for machines that use a separate battery.)
Clean or replace electric box or filter.
Inspect fasteners.
Remove shroud. Check the cover for damage.
Clean parts under the shroud.
Tilt grinder back and inspect bearings.
Once or Twice Per Year
Replace air filter (for propane machines).
Inspection by a service center.
Cleaning Tips
One of the key maintenance tasks is cleaning your concrete grinder. For your safety, always make sure the machine is turned off, unplugged, and cooled down.
In order not to damage your machine, do not use a high-pressure washer or chemical cleaners. Instead, use mild soap and a damp cloth or soft brush to remove oil and grease from all parts, including handle, heads, plates, and shroud.
Replacement Parts
To keep your machine running smoothly and for a longer period of time, it's important to only use original replacements parts and approved dealers. Parts from other manufacturers may not be as high quality and you could end up replacing parts more often, or worse, damaging your machine.
Remember, when inspecting your machine, if there is visible damage to any of the parts, do not use it until it has been checked out and corrected by a service center.
Your concrete grinder user manual is a great place to look for more detailed maintenance information.
Are you in the market for a new concrete grinder or have a maintenance question? We are partnering with National Flooring Equipment and PPG; a group of PPG stores will stock Seal-Krete High Performance Systems (SKHP) along with recommended grinders from National Flooring Equipment.
Check out your local PPG store or schedule a chat with one of our flooring experts.