3 Ways to Develop Your High-Profit Niche in Concrete Coatings
Sponlight on Safety and Anti-Slip Flooring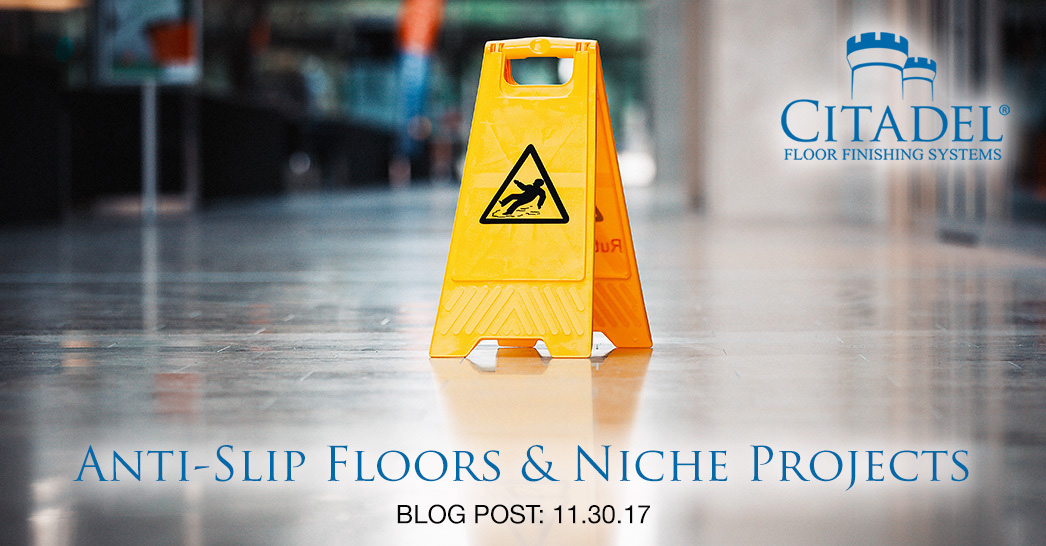 2017-11-30
Many business owners do what I call "the Walmart" when it comes to their business. They market in a general spray, serving "everyone," turning away no potential client. (And, in truth, even Walmart has a specific clientele; not everyone shops there.)
An example is the American auto mechanic who "specializes" in foreign and domestic car repairs – that's not a specialty, that's literally all cars in the US market!
A niche, by definition, is specific and exclusive. Entrepreneurs fear turning away business in doing that, but the reality is that the narrower your focus - the more specific the problem you solve for your customers - the more targeted your marketing can be, and for greater return.
1. Define your niche: Know the problem you solve.
Do your research. What is the market need? By way of example, we're highlighting a potential niche for your concrete coating business: anti-slip floors.
According to the Centers for Disease Control and Prevention, 8.5+ million Americans sustained injuries from a slip or fall over the course of a year - with a total financial impact of about $80 billion per year, according to the National Floor Safety Institute (NFSI).
In other words, slips and falls are a multibillion dollar problem... which becomes a sizable opportunity for your business.
2. Define your solution: Know how you uniquely solve the problem.
We've defined a specific problem: people fall...a lot. Now, what can your concrete floor coating installation company do to help?
55% of slips and falls are caused by a hazardous floor, reports the NFSI, but can be prevented if slip-resistant flooring is in place.
"Research shows that the incidence of slip accidents can be reduced by 21 percent with every 0.1 increase in measured COF (coefficient of friction)." writes Jennifer Faller in Concrete Décor. Citadel has many anti-slip floor coating systems that increase COF.
So, with the right product and training, your contracting business can quickly and easily position itself as the go-to experts on anti-slip coatings for concrete floors. Getting started can be as easy as a phone call with one of our product experts. (Schedule one here.)
3. Define your market: Know your who and where - and connect with them.
Who is most affected by your niche offering, and where do you find them?
Continuing with our anti-slip coating example: Who is most vulnerable to slips and falls? The answer is, really, anyone – but especially seniors, children, and workers in slippery environments.
What you need to ask yourself next is: where are those people most vulnerable to slips and falls? Which businesses carry the most risk in liability issues around falls?
Here's a short list to get you started, of locations, organizations and businesses. (Hint: this is your potential client list):
• Schools
• Locker rooms and around swimming pools
• Community pools
• Hotels
• Walkways
• Loading docks
• Warehouses
• Senior housing and facilities
• Medical facilities
• Hospitals
• Food production facilities
• Manufacturers, especially that use water, oil or other liquid in their process
Review your current client list. Go through your existing contacts, with whom you already have some type of relationship. Which are in these categories, where you have not yet offered anti-slip coating?
Once you've exhausted your remaining network, begin "cold" outreach to these facilities through calls, appointments, presentations on floor safety, and more.
Looking for more detailed guidance? Click here to schedule a call with a flooring expert and we'll walk you through the tools you'll need, and what to do next.