Protect Your Floors With UV-Stable Polyurea Top Coats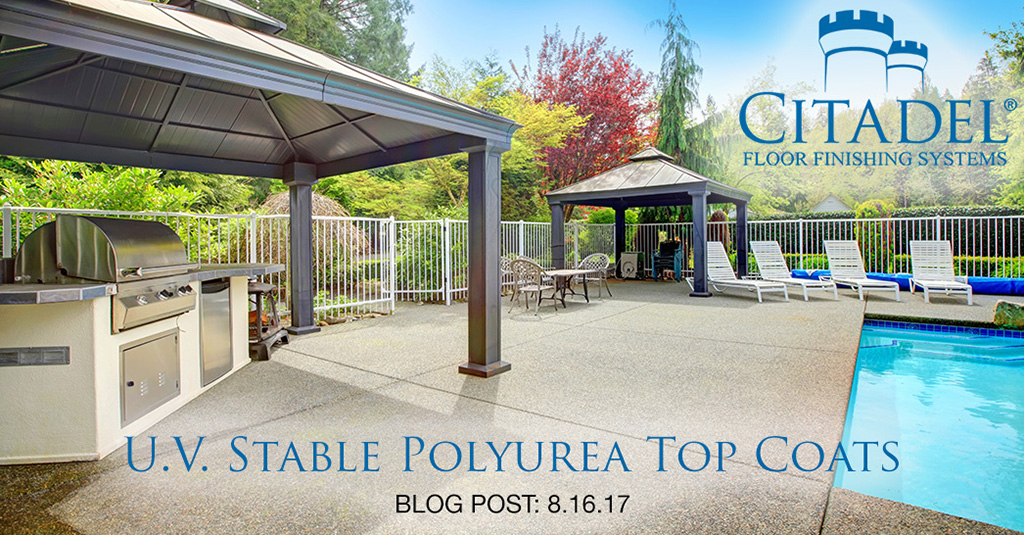 2017-08-16
It's summer time, and the sunlight doesn't just heat up your job site, it can discolor your floor coating over time – if it's covered with a non-UV stable top coat like epoxy.
All sunlight includes about 10% ultraviolet (UV) light, electromagnetic radiation with wavelengths shorter than visible light but longer than x-rays.
"Despite the addition of UV stabilizing agents, epoxy will eventually amber when exposed (directly or indirectly) to sunlight," reports this All Garage Floors article.
Directly or indirectly...meaning that UV-stable top coats are not just for exterior applications. Even sunlight entering through doors, windows and skylights will take its toll over time. (Glass blocks some, but not all, types of UV rays.)
It seems like a no-brainer to use a top coat that doesn't yellow, right? But some installers will cut costs by using epoxy. Citadel only sells and prefers UV-stable polyurea top coats, for the simple reason that quality, speed and your health come first.
To be fair, polyurethane is also UV stable. More expensive than epoxy, less so than polyurea, polyurethane will not amber when exposed to sunlight. But there are other "cons" to using polyurethane: its thin dry film thickness can require multiple coats, it has a longer cure time, and most formulations have high VOC's – not only slowing your team down, but endangering their health.
So, why UV-stable polyurea?
The advantages of using a polyurea topcoat go well beyond UV stability. Faster cure time, it goes on thicker (meaning less coats to apply), has a water-clear and high-gloss finish – and it's extremely low in VOC's, so your team is less exposed to dangerous chemicals. Polyurea coatings are also more flexible, making them more scratch- and impact-resistant.
Because of polyurea's quick cure time, it takes some professional skill to use this high-quality top coat – giving you, a trained installer, an advantage over DIY and smaller operations. You can read more on the benefits of polyurea for your business, here.
As you're choosing the right combination of base and top coats, color and anti-slip additives, don't forget to consider whether your top coat is UV-stable. Your customers – and team – will thank you!
For a walk-through of the best combination of products to meet your project's needs and budget, schedule a no-obligation consultation with one of our experts.