Visit Citadel Floors at World of Concrete in Vegas this January (Booth S12107)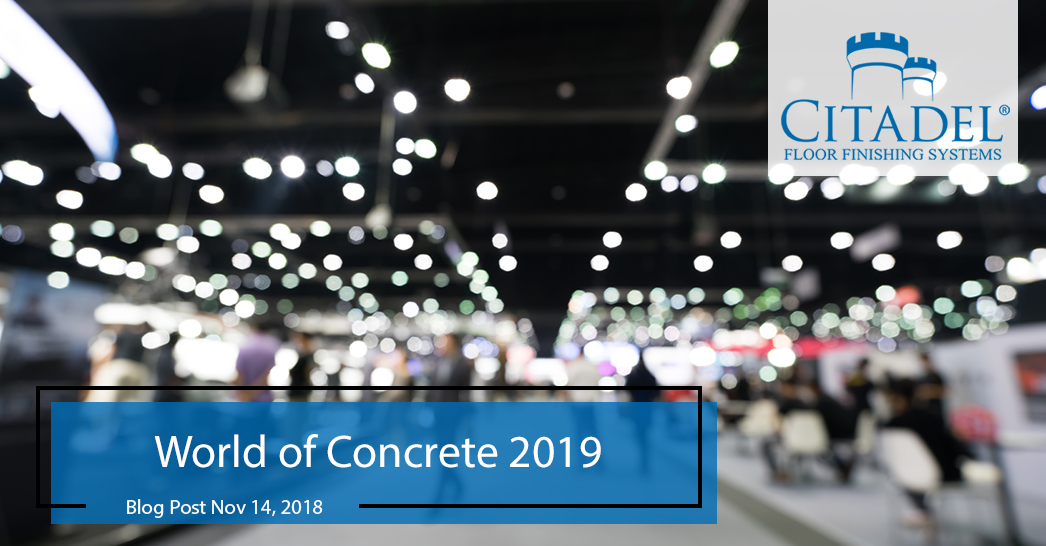 2018-11-14
The World of Concrete is to the commercial concrete and masonry industry what the Super Bowl is to football. (And this year, they happen a little over a week apart.)
The World of Concrete Expo takes place January 21-25, 2019 at the Las Vegas Convention Center.
Started in 1975 in Houston, Texas for the commercial construction industry, World of Concrete (WOC) now boasts 58,000 industry professionals attending from all over the world, with 1,500 exhibitors covering more than 745,000 square feet of exhibit space.
WOC features an education program with 180+ offerings providing training and certification, safety, leadership and construction fundamentals and more, including 70+ new sessions and 135+ industry speakers. The trade show also includes special events, demonstrations, luncheons and forums and competitions in outdoor exhibits and demonstration areas and throughout the convention center.
WOC makes a concerted effort to bring together international buyers and exhibitors to expand business both domestically and overseas, showcasing the newest construction machinery and construction equipment for the industry. To give you an idea of WOCís international reach, fact sheets are available in 11 languages besides English, including Arabic, Chinese, Farsi, French, German, Italian, Korean, Portuguese, Russian, Spanish and Turkish.
World of Concrete has grown globally to include events in Asia, just launched this year and already featuring 54,000 square meters of exhibit space, 900+ exhibiting companies and 39,000+ visitors to Shanghai; and Europe, co-located with industry event Intermat in Paris and including 1,500 exhibitors, 70% from outside France, representing 40 countries.
We are excited to be on-site as a leading manufacturer of polyurea floor coatings, in our 11th year attending the expo.
In business for 40+ years, we have developed and formulated high-end polyurea floor coating solutions to compete against existing epoxy- and urethane-based floor coatings for both commercial and DIY markets.
Citadel products are installed in over 15 countries and on projects that range from high end grocery stores to major automotive service centers, earning us a reputation as the manufacturer and supplier of the most reliable, durable, environmental flooring systems in the world.
If you plan on attending the World of Concrete, be sure to stop by Citadelís booth and check out our newest and existing product lines and live demonstrations. You can find us in South Hall at Booth # S12107.
Need help before January or want to meet with one of our team members at World of Concrete? Click here to schedule a chat with one of our flooring experts.