What Concrete Flooring Contractors Have to be Grateful For this Thanksgiving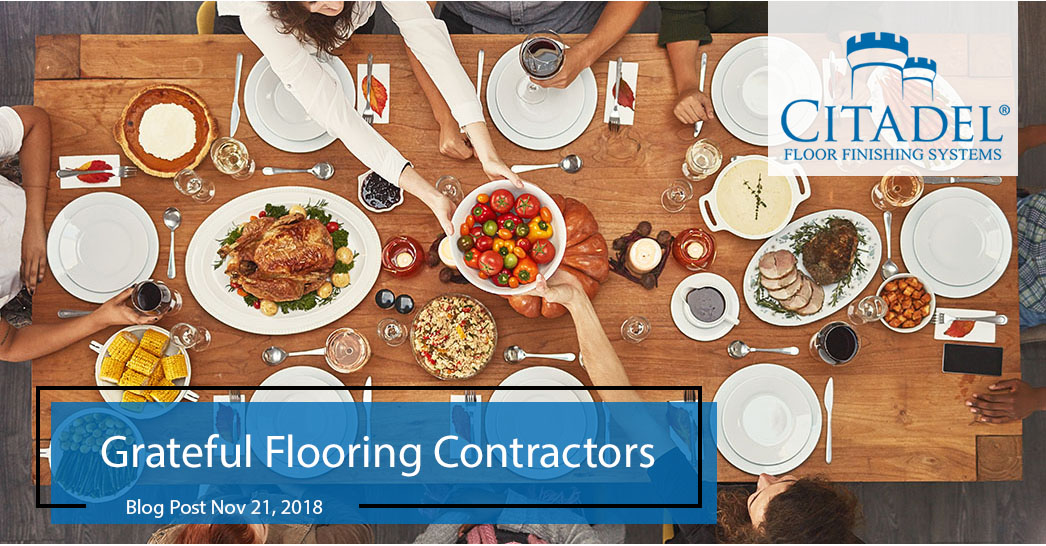 2018-11-21
As you (hopefully) get a break from your busy schedule to celebrate with family, toss a football around, and tuck into a delicious dinner this Thanksgiving, here are some things for which concrete flooring contractors—hard-working folk that you are—can reflect upon and be grateful for, before the turkey's tryptophan lulls you into a post-feast nap.
Your loyal team members and subcontractors. Working hard, day after day, in the trenches with you; continuously learning and training to improve their performance; good team members are priceless. Let's take some time this Thanksgiving to appreciate and recognize team members for a job well done.
Your helpful suppliers. No job ends well without high quality materials that install quickly and easily - especially critical when using custom coatings straight from the manufacturer. Send a thank you card, share a warm handshake with them at a live event (like World of Concrete), or heck, schedule a quick phone call to say a few words of thanks.
Your loyal customers. No job begins without the clients who need your services. Their appreciation, in the form of income, keeps your business afloat—and their referrals, your pipeline full. What can you do to reciprocate that appreciation?
Anyone else who supports you professionally. That could include project managers, architects, engineers, etc. They may not be profiling the concrete surface or broadcasting additives by your side, but their contribution is just as important.
Your caring family that supports you and has probably waited many long hours for you to come home. Take some special time this Thanksgiving to be with them, uninterrupted by work. Let's share thanks for the loved ones who help make our lives a little easier.
All the things that went right this year. Successful projects. A great network. Good health. Let's be thankful for the things that did go right.
Inspired by this list, what would you add? What else are you grateful for?
We are grateful for you, and wish you and your family a very happy Thanksgiving. Let us thank you in person—join us at World of Concrete, January 21-25, 2019 in Las Vegas, Booth # S12107. Have a question that can't wait until then? Schedule a call with one of our flooring experts today.