The Best Concrete Floor Coatings for Salons: 5 Factors to Consider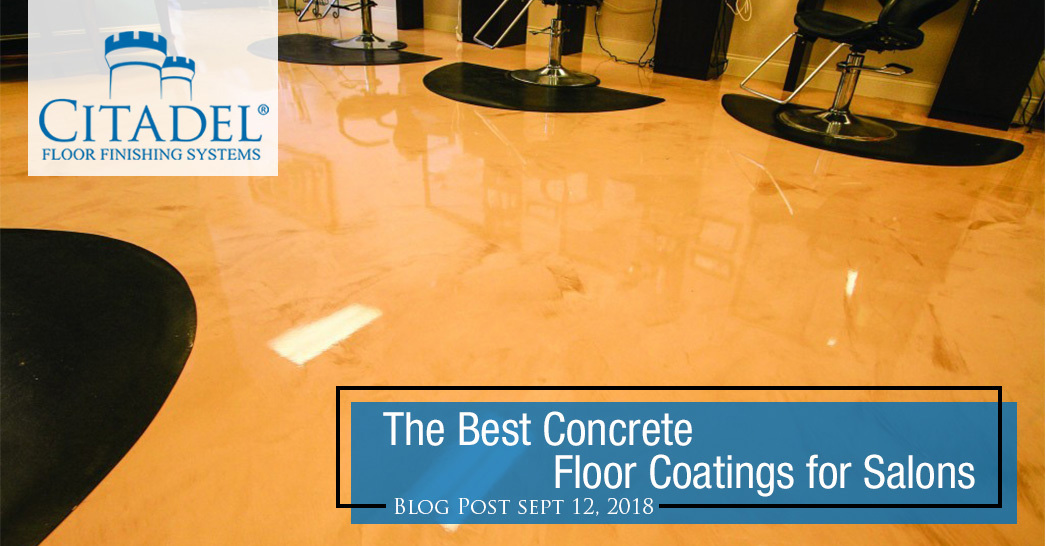 2018-09-12
Industry Highlight Series: Each month we feature a different industry to help you grow your business. We do the research for you, to better serve your clients—or hone in on your specific niche among industries and facilities particularly well-served by polyurea concrete coatings. Previous highlights have included breweries, grocery store meat departments, and warehouses. This month, we're taking a closer look at salons or hairdressers, a niche amongst retail & commercial establishments.
What do salon owners look for in a concrete floor coating?
1) An upscale, attractive surface.
Salons are in the beauty business, so how they look is a matter of credibility. If the environment doesn't look aesthetically pleasing, how can clients trust that they'll walk out of the salon looking good? They may also create a pampering, spa-like experience for customers, and require surroundings to match.
Salons may opt for a natural look with a neutral palette, as with Citadel's Stone series decorative chip system, which has multi-colored chips that allow the customer the high durability and low maintenance of a polyurea coating without looking as plastic as traditional chip systems.
Or owners may prefer elegance with an edge, like the Pearlescence™ metallic system, which produces beautiful one-of-a-kind floor coatings with iridescent accents and high-shine finish in a wide range of colors.
In this industry case study, a Scottsdale, Arizona salon was looking to replace its existing floors, which were a combination of dated Mexican Saltillo tile and old epoxy. The owners wanted a more unified, seamless surface that would enhance their salon's upscale appearance.
2) Easy to clean.
Hairdressers need to be able to restore elegance with the sweep of a broom. On a busy day, they may see clients back to back with little more than a few minutes to prep in between – so ease in cleanability is a must. A non-porous polyurea floor has no cracks or frayed edges to trap dirt and other debris and can also be applied vertically over cove moldings for a totally seamless basin that prevents water from getting under walls.
3) Resistance to abrasion and chemicals.
Hairstylists work with sharp tools like scissors and clippers, as well as hot equipment like hair dryers, curling and flat irons that, when dropped, can damage a less sturdy floor. They also typically work with chemicals for changing hair color or texture. Salon owners therefore require floors that are durable as well as moderately chemical-resistant.
4) Anti-slip surface.
Fall protection remains OSHA's top-reported safety violation, and salons are no exception. With heavy foot traffic between practitioners and customers, on floors where dripping wet hair, chemical colorants and wash basins can create a slippery environment, coatings that offer slip resistance are a must. A coating to which anti-slip additives can be broadcast is a matter of safety—and reduced liability for the business.
5) Minimal downtime for installation.
Finally, for salons or any busy retail or commercial environment, minimal time to install the new flooring and return it to use is a high priority. Citadel's Polyurea cures much quicker than other polymer-based coatings. Typically, within 4-6 hours after installation, the floor is ready for foot traffic. (As a bonus, polyurea coatings also have low VOCs and odor, making installation even less disruptive to business.)
If you are bidding on a hair salon or spa coating, we can help you select the best materials to meet your project's unique needs. Click here to schedule a no-obligation call with one of our flooring experts.