4 Hacks for Coating Concrete in Cold Weather - For the Same Cure Time as Summer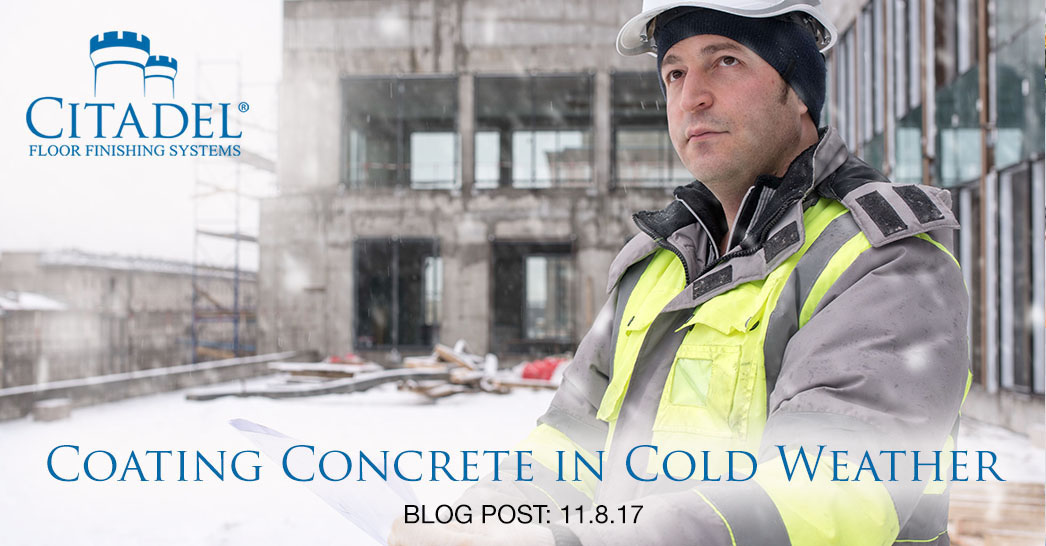 2017-11-08
With October behind us, there's no denying that winter is here - and most jobs aren't done in a climate-controlled setting. So, how do dropping temperatures impact your concrete coating installations?
Many coatings are made for application between 50° and 100° F. Citadel's polyurea can be applied in extreme temperatures, from as low as -20° F.
"We specifically designed our winter products to cure in the same time as our summer products, so you get the job done in the same amount of time," explains Adam Moore, VP of the Citadel Flooring Group.
Here are 4 hacks for a same-as-summer cold weather coating job:
• Remove chemical residue and moisture from the concrete's surface.
In cold climates, de-icing salts or other chemicals can leave a deposit on concrete surfaces in garages, driveways and anywhere wheeled traffic comes in from the cold. Polyurea coatings are ideal in such scenarios because they resist salt, oil, gas and other harsh chemicals.
Also, sufficiently evaporate any moisture in the concrete. Below 32° F, make sure concrete doesn't contain ice that would eventually thaw, compromising adhesion.
• Add solvents to make coatings more workable if the manufacturer says so.
Many coating materials become thicker and harder to apply in the cold. "We tell people to add 10% solvent to our Polyurea-350 product, to make it more workable when cold," says Moore. "Otherwise, it's like peanut butter."
Always check with the manufacturer before adding solvent, to ensure that it won't jeopardize performance.
• Keep coating material at room temperature.
"Keep product conditioned in cold weather to help with installs," Moore explains. "Store product at room temperature in between applications."
• Use products that are specially formulated for cold weather application.
Citadel's 350 Arctic Blend and RG-80 are designed for wintry temps.
Polyurea-350 is a primer that adheres to many substrates and performs in a wide range of temperatures and climate conditions. Its extended working time makes it a contractor favorite. The 350 Arctic Blend cures tack-free in 1-3 hours.
RG-80 is a topcoat made for marine applications, chemical resistance and corrosion control, applicable to both interiors and exteriors and reliable over a wide range of temperatures and climate conditions. RG-80 reaches surface dry in 30-120 minutes and hard dry in 2-4 hours.
Don't let cold weather slow you down. Learn more about coatings that perform in any weather by clicking here to talk to one of our flooring experts.