Let it Snow: Cold Weather Do's and Don'ts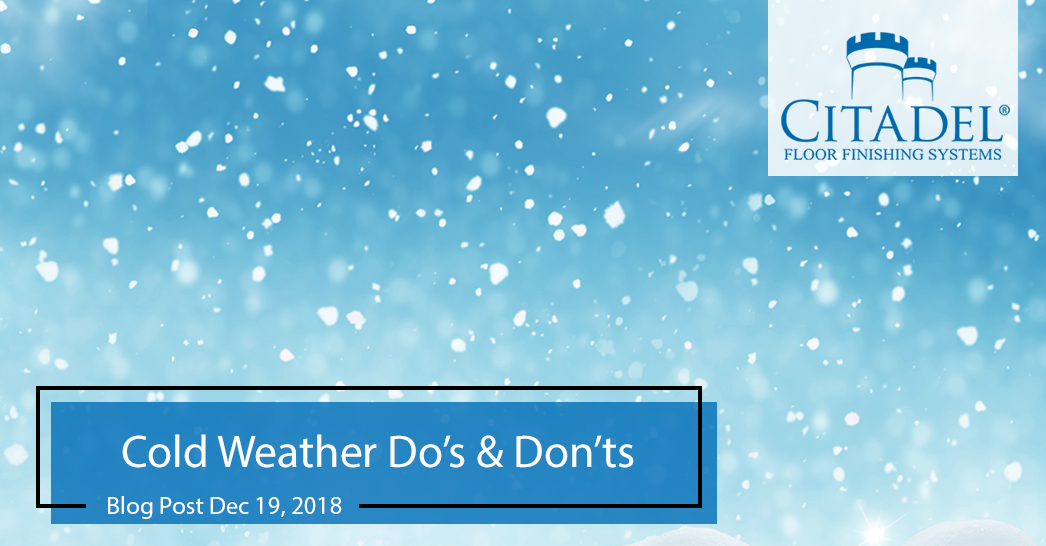 2018-12-17
Just because the coldest months of the year are upon us, doesn't mean that you can't keep coating concrete. Our polyurea concrete coating can be applied in both winter's and summer's extremes, from temperatures as low as -20° F up to 140° F. (Many other coatings can only be applied between 50° and 100° F, restricting installation to warmer months.)
"We specifically designed our winter products to cure in the same time as our summer products, so you get the job done in the same amount of time," explains Adam Moore, VP of the Citadel Flooring Group.
But there are still tips for getting the best results out of your winter concrete coating installations. Here are "Do's and Don'ts" for your cold-weather coating jobs:
• DO remove chemical residue from the concrete's surface.
De-icers, salts and other winter chemicals leave a deposit on concrete surfaces in garages, driveways and anywhere else vehicles come in from the cold. (Hint: Polyurea resists salt, oil, gas and other harsh chemicals.)
• DON'T allow excess moisture or ice to remain on or in the concrete.
Excess moisture in concrete is an issue across seasons, but below freezing temps, make sure concrete doesn't contain ice that would eventually thaw, compromising adhesion. (For particularly porous concrete, water can do the same damage chemicals do, seeping in, freezing, and expanding to spall or damage concrete. Adequately evaporate any moisture in the concrete.
• DO add solvents to make coatings more workable (but check with the manufacturer first).
Many coatings thicken and become harder to apply in the cold. (Think molasses in January.) "We advise people to add 10% solvent to our Polyurea-350 product, to make it more workable when cold," says Moore. Otherwise, it will have a higher viscosity.
• DON'T let your coating materials freeze.
Store coating materials at room temperature in between applications. "Keeping the product [thus] conditioned in cold weather helps with installs," Moore explains.
• DO use products that are specially formulated for cold weather application.
Citadel's 350 Arctic Blend and RG-80 are designed for winter.
Polyurea-350 is a primer that adheres to many substrates and performs in a wide range of temperatures and climate conditions. Its extended working time makes it a contractor favorite. The 350 Arctic Blend cures tack-free in 1-3 hours.
RG-80 is a UV-stable, hardy flooring topcoat made for chemical resistance and corrosion control, applicable to both interiors and exteriors. It is reliable over a wide range of temperatures and climate conditions. RG-80 reaches surface dry in 30-120 minutes and hard dry in 2-4 hours.
Don't let cold weather slow your business down. Let it snow! And learn more about how our coatings can perform in any weather, by clicking here to schedule a talk with one of our flooring experts. Or meet an expert in person: It's not too late to join us at World of Concrete, January 21-25, 2019 in Las Vegas, Booth # S12107.