CPS Products
Citadel 4600 SC
Electrostatic Discharge Control Decorative Quartz
Commercial, institutional, and industrial facilities that require ESD (electrostatic discharge) control and desire a decorative look will benefit from 4600 SC heavy-duty coating.
This three-component decorative quartz blend resists chemicals, vehicle traffic and impact with 2 to 3 times the load carrying capacity of concrete.
4600-SC
(Decorative ESD-Control Coating)
Components Base Coat (Base, Activator), SC Quartz Aggregate & Sealer (Base, Activator)
Turnaround Time 12 hours (foot); 24 hours (full); 4 days (chemical)
Primer Penetrating Prime & Seal Primer
Sealer 9600 SC Sealer
Texture High Profile, Aggressive Anti-Skid; Low Profile can be achieved by applying two coats of sealer.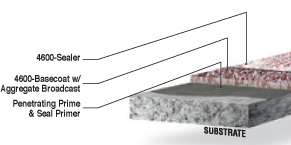 Application Type Type II
Film Thickness 12-16 mils
Gloss & Color Retention Better
Installation Temperature 65°–90°F (18°–32°C)
Chemical Resistance Mild to Moderate
Abrasion Resistance Rubber Wheel
Impact Resistance Mild to Moderate
Thermal Shock Resistance Mild
Key Industries/Typical Applications
Decorative electrostatic discharge control base coat for institutional, commercial and pharmaceutical areas like clean rooms, hospitals, automated assembly areas, storage areas, computer control rooms, electronic assembly areas and electronic manufacturing plants.