CPS Products
Citadel 9000
Epoxy Mortar Topping
The steady grind of a forklift in motion or the constant battering from heavy barrels is all in a hard day's work. Resurface spalled concrete or preserve and extend the life of new concrete floors with 9000-HD. This durable, protective topping covers your need for strong, seamless protection when mechanical abrasion and impact are extreme and exposure to chemicals is moderate.
Application with a screed box and power trowel, or it can be hand troweled in more confined areas
Level and resurface hazardous areas with seamless construction
For heavy-duty mechanical, abrasion and impact resistance
Superior compressive strength with twice the load-carrying capacity of uncoated concrete
Highest resin content in the industry for superior durability compared to other trowel-applied toppings
VOC compliant with 100% solids and low odor for use in all regulated areas
9000-HD
(Heavy-Duty Topping)
Components Base, Activator, Aggregate
Turnaround Time 8-10 hours (foot); 24 hours (full); 4 days (chemical)
Primer 9000 Primer
Sealer 8000-OP, 8000-XTRA OP, or 8200 TX
Texture Various textures can be achieved by using Smooth, Orange Peel, or Textured coatings, 9000 or systems broadcasting vinyl chips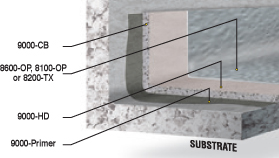 Application Type Type II
Film Thickness 186-250 mils
Gloss & Color Retention Best when topcoated
Installation Temperature 65°–90°F (18°–32°C)
Chemical Resistance Mild to Moderate
Abrasion Resistance Steel Wheel
Impact Resistance Severe
Thermal Shock Resistance Moderate
Key Industries/Typical Applications
Heavy-duty troweled flooring for industrial manufacturing, pharmaceutical, process areas, aisles, packaging (wrap & inventory), primary manufacturing and warehousing.