CPS Products
Citadel Epoxy Primers
Easy. Time saving. And no shot blasting required. Green Concrete Prime & Seal combines the functions of a curing agent, sealer and permanent primer — all in one. It can be applied up to 8 hours after pouring the slab* and is ready for topcoating after only an additional 8 hours of dry time, allowing you to go from green concrete to a finished floor in less than 48 hours.
Performs like a curing compound, sealer and primer all in one
Applies easily, dries quickly, and does not have to be removed prior to recoating like traditional sealers
One coat application
Wide topcoating window — same day or up to 28 days
Strengthens concrete
Eliminates the cost of curing compounds and labor to apply them
Eliminates the cost of 28 days of downtime
Eliminates the cost of shot blasting, estimated at $.30-.50 per square foot
Carpet, tile and floor coatings can be applied directly on cured floor
Passes the test for use as a Concrete Curing Compound (ASTM C156-98 for Water Retention)
Application Type Type II
Film Thickness 8 mils
Gloss & Color Retention -
Installation Temperature 65°–90°F (18°–32°C)
Key Industries/Typical Applications
New construction, plant renovations.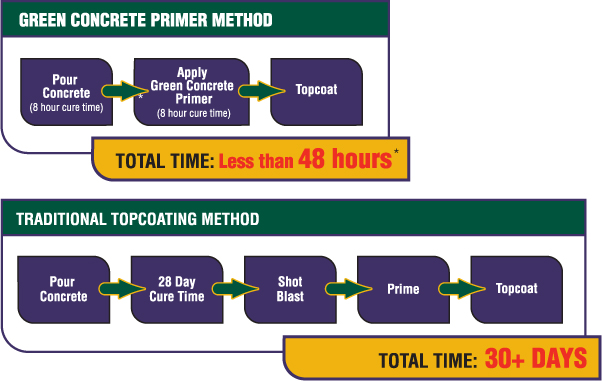 TurboPrime™
Prime. Seal. Dustproof. In no time.
This two-component, easy-to-apply high-solids epoxy primer protects against dust, water and mild chemicals. Can be used as a concrete primer or stand-alone sealer. Fast cure for recoat in 1/2 to 2 hours, even in colder environments. Slight odor. VOC compliant with <100 g/l. Available in Amber Clear. Application Type I.

Prime & Seal™ Primer
This two-component, virtually 100% solids epoxy resin polymer seals the substrate and securely bonds it to the floor coating or patching materials. May be used before applying floor coatings, toppings, patching materials, or alone as a concrete sealer. Exceeds the tensile and sheer strength of the concrete itself, and cures in only 6-8 hours. Available in Natural, Light Gray and Super Light Gray. Application Type I.
Penetrating Prime & Seal™ Primer
Application Type Type I
Film Thickness 8 mils MAX.
Installation Temperature 65°–90°F (18°–32°C)
Chemical Resistance Mild to Moderate
Abrasion Resistance Rubber Wheel
Impact Resistance Mild to Moderate